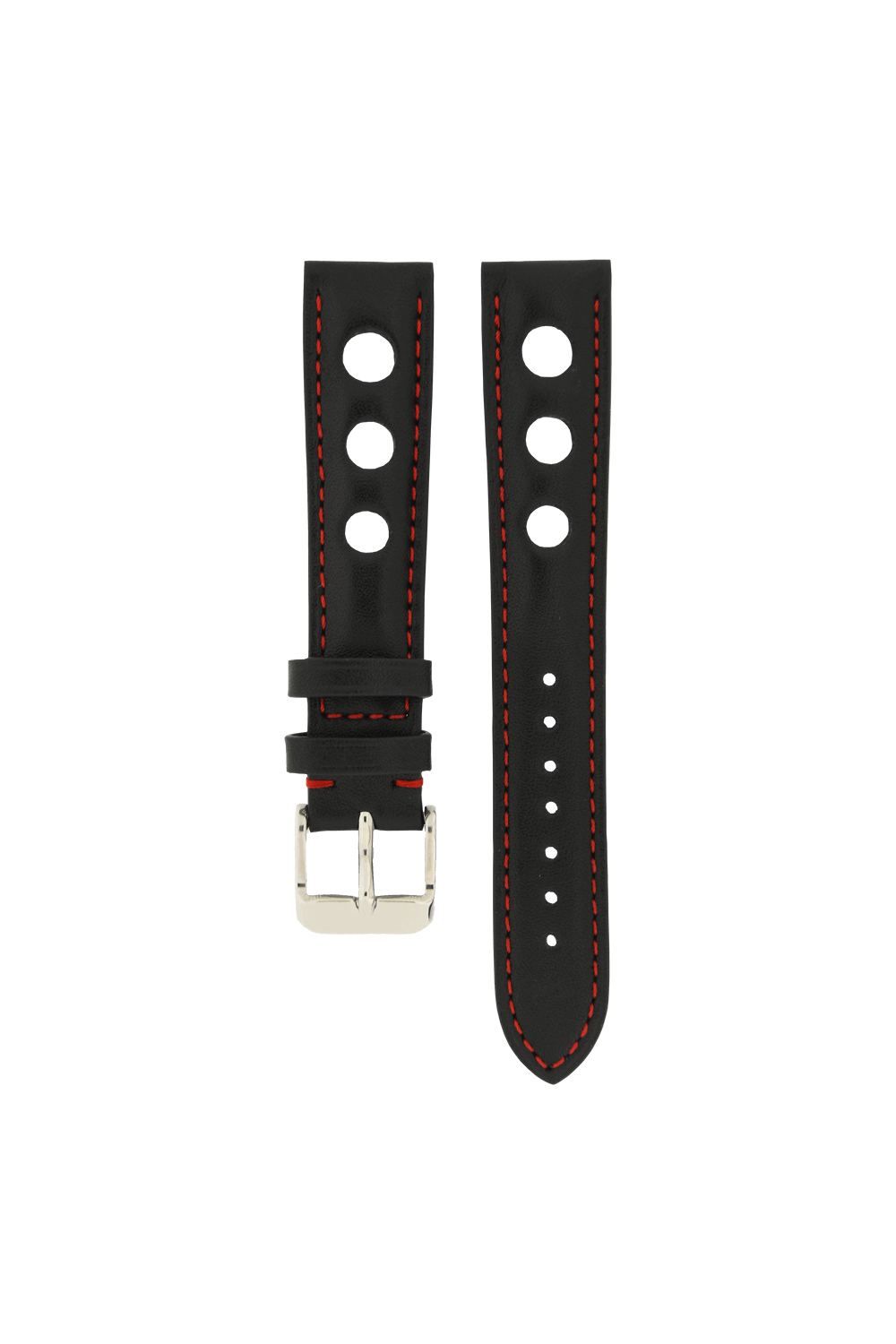 Inspired by the original racing watch straps. Dress your Atelier Jalaper timepiece with this timeless strap. 
Handmade in France : Genuine Black Leather with Red colour Stitchings and three perforations on each side
Lug width: 18mm - Size: 115/80mm - Buckle: Polished Inox
frequently asked questions
Is Atelier Jalaper associated with Aston Martin?
+
Atelier Jalaper and its products are not in any way associated or supported by Aston Martin or any of its affiliates.
If my watch arrives with a manufacturing defect can I get a replacement?
+
If your watch comes with a manufacturing defect, you can send it back to us, we will inspect it and we will have it repaired and send it back to you for free in case of manufacturing defect.
Why do you assemble your watches in Switzerland?
+
Swiss watchmakers are renowned for their expertise throughout the world. It was the obvious choice to get the best possible quality for our watches.
What does Atelier Jalaper mean?
+
Atelier Jalaper is a fusion of the names of the two founders of the brand, Louis Jalaber and Simon Szleper.
How did you get the Aston Martin DB5 parts?
+
Acquiring the parts of an Aston Martin DB5 was a year and a half long process. We found them in London, they were then authenticated by Aston Martin Works.
THE PRESS SPEAKS ABOUT IT
"To design these collector dials, the Chaux-de-Fonds craftsmen in charge of their design first had to flatten the hood of the legendary car before cutting out 600 dials with the greatest precision, despite the malleability of aluminum. »

Le Figaro

Pour Atelier Jalaper
Our valiant 25 and 27 year old compatriots had the crazy idea of buying an Aston Martin DB5 hood (James Bond's), and cutting it up to make the dial of their watch."

GQ Magazine

Pour Atelier Jalaper
In life, there are dreams and those who succeed in realizing them. Simon Szleper and Louis Jalaber have achieved the perfect fusion of a watch and an automobile myth: the Aston Martin DB5.

Montres Magazine

Pour Atelier Jalaper
Atelier Jalaper presents a watch with a piece of Aston Martin DB5 inside. They decided that incorporating a piece of the Aston Martin DB5 bonnet into their watch would give it a very special touch."

TopGear

Pour Atelier Jalaper
★★★★★

A promising Belgian brand! Enthusiastic, imaginative, ambitious: Simon Szleper and Louis Jalaber are pure seeds of young entrepreneurs".

Paris Match Magazine

Pour Atelier Jalaper